USS Callaghan DD792 Survivors Association
59th Reunion- Straford Inn, Fenton, Missouri

October 10-14, 2004

Hosted BY Norma L. & Donald Radeacker
Sister of Joe Wallace Killed when the ship went down
dradeacker@earthlink.net

2004 Reunion Attendance

Anderson, Chester M
Ball,Don & Maidean
Benton, Bill & Eunice
Bond, James Clifton & Oreatha
Brunton, Wally D
Buzzetti, R J & Beverly
Cooper, Robert ( Bob ) Daughter= Marilyn Niedert
Ferguson, Becky=Father, Robert Elrod
Hargis, Bill & Mabel
Henry, Don l. & Karen
Horn, Harry & Barbara
Horn, Helen
Jarbo, Leo P & Vivian
Levreau, Alfred & Iona---Daughter --Janet Brant
Relative--Bruce & Joyce DeVries
McCoy, Patsy & John
Moreau, Don & Mary Ann
Moreau, Marland & Audrey
Novelli, Michael & Josephine
Ostrem R.C. Son---John Ostrem
Raasakka George & Velma
Vieth, Charles & Ruth
Wallace, Wilfred & Mary
Woodward, E.C. ( Woody)
Wren, L. Peter---Son-in-Law==Lynn Palmer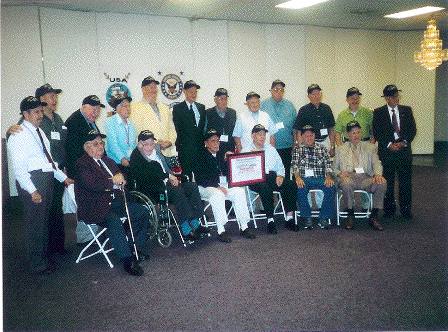 There were many survivors who could not attend the reunion because of Illness.
They each either called or sent a letter of their regrets.
The survivors who could not make it are;
Allen Foster
Roy Jacobsen
Ron Jones
Ed Kellner
Tom Plofkin
Ed Stein
Bob Thatch
Burton William
Wally Brunton Has agreed to Host the next reunion. It's planned to have it in Maine.
The date has been set, a letter is being sent to reconfirm the date.
The date has been set as August 31st Thru 4th 5th. Bath, Maine. At the Holday Inn. The Room rate is $69.00. This will be the Callaghan's 60th reunion. A general letter on this will be when Wally has finalized the details. Any Information can be e-mailed to Wally Burnton----wallace.b@verizon.net----
For more information please send e-mail